Nest Boxes
---
---
Garden Bird Watching
There are a number of nest boxes that can be bought ready made, but not all are always suitable for birds to nest in. Those that are sold by reputable organisations like the RSPB are designed with birds in mind, but you will also find some in High Street shops which are not. Something that is designed to appear like a bird hotel or a dolls house may look quaint in your garden but is unlikely to be a sucessful nest box.

Choose a sturdy well-made nest box, or better still if you are able, make your own. You can limit the size of the hole to between 25mm and 28mm to restrict the box to Blue Tits or Coal Tits, or increase it to 32mm to include Great Tits and Sparrows. If you make your own the internal dimension should be a minimum of 100mm x 100mm but optimally 120mm x 120mm. Nest boxes should be made well enough that they don't let in rain water, yet they should also have adequate drainage and ventilation.

Placing nest boxes correctly is also important. Boxes that attract the same species shouldn't be placed close together and should also be high enough to not be in the range of ground preditors (and perhaps human traffic). They should also be shaded and not South facing as this could cause overheating on a hot sunny day.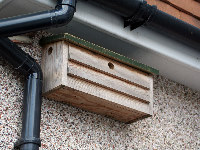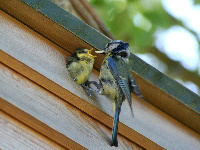 This is an example of a pre-made box sold as 'Sparrow Terrace' as it is actually 3 boxes in one (Sparrows do like to nest together) There is however no guarentee that Sparrows will take it up. In the image on the right you can see that Blue Tits have chosen the centre section to nest in it which they have done for several seasons whilst the Sparrows have shown no interest.

Video here of a fledgling leaving the box.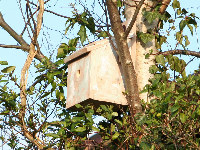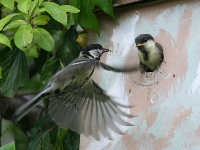 Here is a home made box constructed from timber and placed about 12 feet high in a silver birch tree. As with the Sparrow Terrace box it has a 32mm opening. Both Blue Tits and Great Tits have been in this box and the image on the right shows the Great Tits.

One of the advantages of making your own box is that it gives you the opportunity to design in the space for a camera if you wish. Shown below are a few examples from the Great Tit nest box.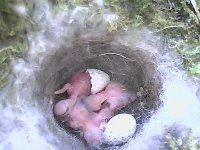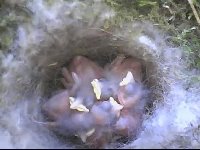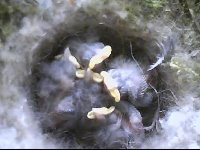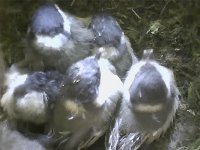 These show the five Great Tit chicks from hatching on day 1 to days 4, 7, 14 and day 21 when they fledged.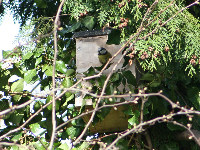 This is another home-made box which has been used by Blue Tits. This one was made from plywood rather than timber which is OK except that plywood does not have the same durability. So, if you make one from plywood don't expect it to last more than a couple of seasons.

If you do put out nest boxes, you will need to clean them out each year before the new season. If you clean them in the Autumn after all nesting has finished, you may find that you get a bird roosting in there during the winter which will make it more likely that the same bird will choose to nest there in the Spring.


---